Face Care: 10 Easy Tips For Your Summer Skin Care Routine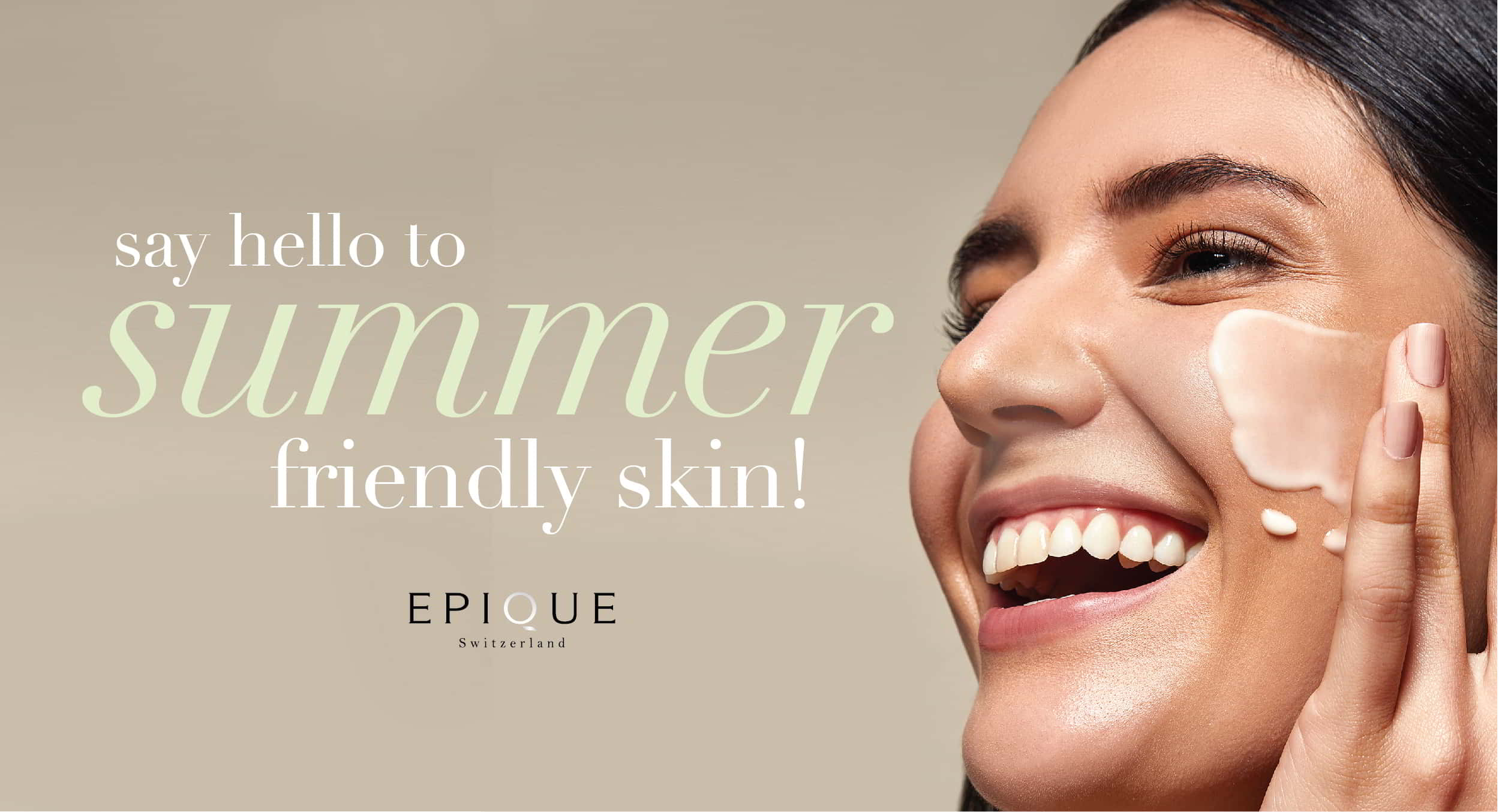 Face Care: 10 Easy Tips For Your Summer Skin Care Routine
Your skin requires some extra TLC during summers. From the right kind of sunscreen to the perfect moisturizing routine, here's how you can get your skin summer-ready.
New-season brings with it a host of changes – from diet to clothing to certain habits. Seasonal change has an impact on our day-to-day lives. And the season that's most anticipated is the summer season. 
Apart from the heat and humidity, summer brings with it its unique challenges, especially for our body and skin. Thus, it's important to adopt a healthy natural summer skin care routine. 
Trending Post: Slugging Skincare "The New Trending Face Care Routine"
Read on to find our 10 natural tips for your summer skin care routine. These will keep your skin healthy and glowing.
1. Wear broad-spectrum sunscreen every day: 
Summer is equal to intense heat and a hardworking sunscreen offers protection from the harmful UVA and UVB rays. Try Epique's Advanced UV Protection System infused with Phyto-Concentrates that help fight early ageing, prevent tanning, and sunburns. Its SPF 50 offers long-lasting protection, especially during hot and humid weather. 
2. Wash your face regularly, but don't overdo it
When it's hot, it's only natural to want to wash your face constantly. However, if you wash your face too often, you may end up dehydrating it. Instead, stick to a gentle cleanser and lukewarm water wash once in the morning and once at night. Try Epique's Detoxifying Foam Cleanser that makes sure your skin is not stripped off the natural oils. It gently cleanses your skin, detoxifies tired and dull-looking skin while removing impurities. This is one of the most important summer skin care tips, especially for oily skin. 
3. Add fruits and vegetables to your diet
Just adding the best ingredients to your summer skincare routine is not enough. You need to back it up with a healthy diet. Summer brings with it nature's bounty in the form of fresh produce, so make the most of it and include lots of fresh fruits and vegetables in your diet. These are full of natural antioxidants and hydrating. 
4. Go light on makeup
Your skin's pores tend to get clogged with impurities due to excessive sweating. During summer face care routine, it's important to keep your makeup minimal so you allow your skin to breathe. Use Epique's Oil-Free cleansing & Make-up Remover Wipes that are extra-mild and remove all traces of dirt, make-up, and grime from your face. 
5. Change your moisturiser
You may think that your skin doesn't need moisturising during summers, but that's not true. Swap your heavy winter moisturiser to light, non-greasy formula that's perfect for summer. Try Epique's Advanced Balancing Day Cream, a lightweight formula that absorbs quickly and tightens your pores. 
6. Drink lots of water
Up your hydration goal as you tend to sweat more during summer. Dehydration can cause a host of skin issues such as dry and itchy skin or rough and scaly skin. 
7. Stay covered
Try to carry an umbrella, a hat, or a cap to protect yourself in the sun. As much as possible stay indoors between 10 am to 5 pm when the sun is at its harshest.
8. Don't forget to exfoliate
If you have oily skin, you must add some exfoliation to your summer skincare routine. While you must ensure you don't over-exfoliate, it's important to build a gentle exfoliating routine in your summer skincare prep. Epique's Hydrabright Peeling Gel is a natural exfoliator infused with Phyto-Concentrates. It's non-abrasive and delivers deep exfoliation under two minutes. 
9. Wear light layers
Now that you know how to prep your skin for summer, it's time to think about your clothes. It might be tempting to go short when it comes to your clothing choices, but always ensure to wear light layers like a jacket or a shrug to help save your skin from the harsh sun rays. 
10. Don't spend too much time in the shower
Long showers can strip your skin of its natural moisture and oils. Keep shower time to a minimum and avoid using extremely hot water. 
Armed with these summer skincare tips for your face and body, you are all set to enjoy a great season. But most importantly, remember to always enjoy the skin you are in and stay Beauty Eternal.