5 Tips by Experts on How to Remove Acne Scars, Dark Spots on Face!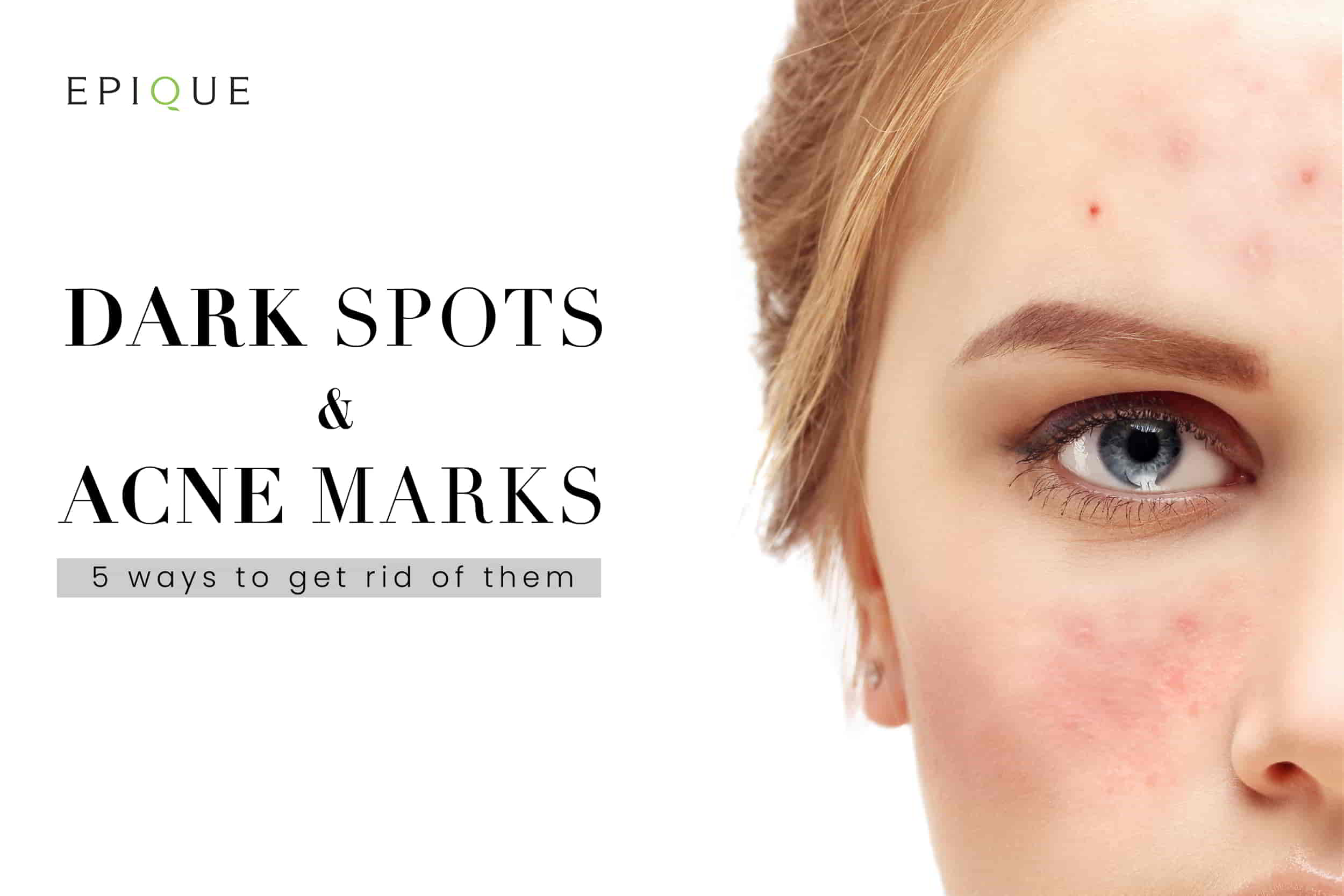 5 Tips by Experts on How to Remove Acne Scars, Dark Spots on Face!
Acne marks can be more frustrating than acne breakouts themselves. If you've suffered acne, you know exactly what we mean. While suffering from acne itself can be quite challenging, the marks left by these nasty breakouts are like a constant reminder that they can visit again.
More than that, these marks can affect your confidence. However, these scars don't have to be permanent. There are ways to get rid of dark spots and acne scars on your face.  
Popular Post: Slugging Skincare New Trending Face Care Routine Going Viral on Tik tok

Why Do Acne or Breakouts Cause Scars or Black Spots?
Acne scars or breakout spots are caused by inflammation that interferes with the skin's natural healing process. When acne occurs, your skin-pops open and then shuts back again. Sometimes due to broken blood vessels, your skin may be left with a mark. Many people have the habit of picking on the inflamed pimple, which tends to leave blemishes that are red or dark brown in colour. Worry not; these do tend to fade over a period of time.  
How to Get Rid of Acne Scars Fast? 
There is no magic pill that can make acne scars fade quickly. However, a sustainable approach to skincare will definitely go a long way.  
1. Treat acne
The most important thing to remember is to ensure you don't let your skin stay inflamed without treating it. Some people tend to scar more than others. There's no way to know why. So, it's best to treat acne as quickly as possible and with the help of an expert. You must also follow a great skincare routine to help your skin avoid getting breakouts or acne.  
2. Invest in a skincare routine
Stick to a simple routine of cleansing your face twice a day, toning and moisturising in the morning and at night. Use a gentle cleanser like Epique's Detoxifying Foam Cleanser. It's a natural cleanser infused with 'Phyto-Concentrates' that gently cleanses and detoxifies the skin and removes all impurities. Epique's Moisture Infusion Toner gently tightens pores, hydrates, and rejuvenates the skin from within, and the Advanced Balancing Day Cream rebalances the skin barrier and minimises the appearance of black spots. This routine is the gentlest and best way to fade acne scars and dark spots.   
3. Get a facial
Treat your skin to a luxurious facial with Epique's Express Brightening Facial Mask. It helps visibly correct skin's dullness and instantly illuminates the skin in just under 20 minutes. It also helps hydrate the skin by deeply nourishing it, leaving it radiant, refreshed, and even-toned. Just pop on the mask and let it do its magic. 
4. Use sunscreen
Many underestimate the importance of using sun protection. UV light tends to activate melanin cells. As post-acne marks are an indication of overactive melanin cell production, UV can make the spots more visible. Use Epique's Advanced UV Protection System, which helps prevent pigmentation and get rid of dark spots.
5. Use the right moisturiser
When it comes to mature skin, treating dark spots and pigmentation needs special care. Epique's Intensive Luminescence Cream has been specially developed to get rid of dark spots and uneven skin tone and promises to leave the skin looking radiant. It is infused with Phyto-Concentrates such as piper nigrum fruit, green coffee bean, and pure glycyrrhiza glabra root, which helps enhance luminosity and radiance. In fact, this powerful formula also ensures to fight future dark spots, hyperpigmentation, and other skin discoloration, making it an effective pre-emptive treatment. 
These simple steps can help you enhance your skin's natural beauty and help you enjoy the skin you are in. Because it's important to stay Beauty Eternal.