Does Under Eye Cream Really Work on Dark Circles and Wrinkles?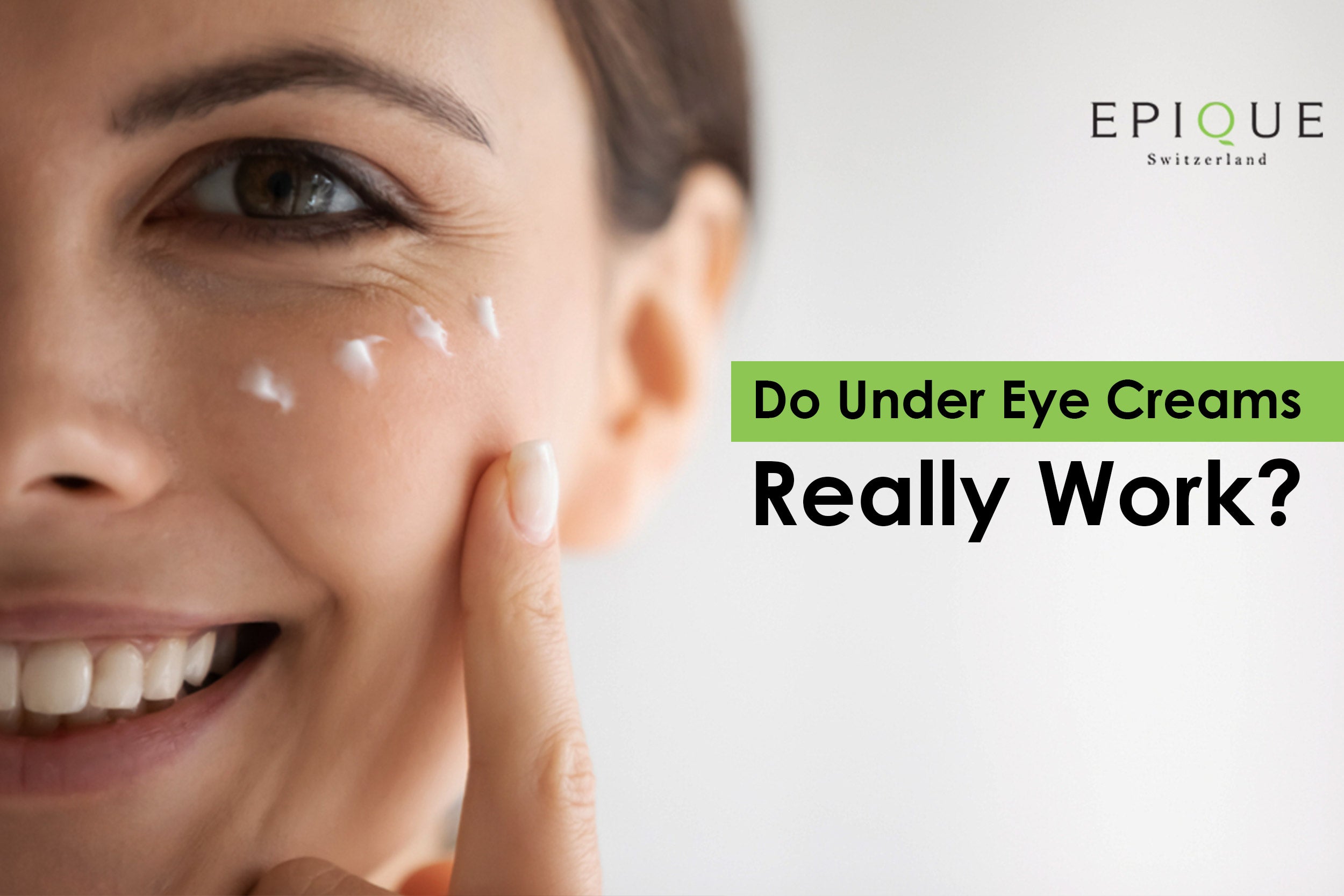 Does Under Eye Cream Really Work on Dark Circles and Wrinkles?
Eyes convey a lot more than just feelings. The first signs of ageing such as wrinkles, crow's feet and dark circles appearing around our eyes. The skin around our eyes is also sensitive and thinner than the rest of our face. This is the primary reason that many skincare brands introduce under-eye creams to their lineup. however, let's investigate do eye creams really work?
Whether under creams really work or they are just a marketing ploy has been one of the most extended debates amongst skincare enthusiasts. Here are some of the myths regarding eye creams. 
What is an Eye Cream?
1. Eye Creams Are Just Like Any Other Moisturiser
There's a strong argument against eye creams that it's just like any other moisturiser. So probably your moisturiser works fine even under your skin. However, the skin around your eyes is sensitive and thinner. So, moisturisers that are too thick or are made of complex ingredients might be too much for your under eye skin. Some moisturisers can also cause irritation if used under your eyes or on eyelids. 
2. Eye Creams Never Work for Dark Circles 
This may be true for some people who suffer from genetic conditions that cause dark circles. However, eye creams can make a difference to the appearance of under eye circles. When formulated with potent ingredients, eye creams can help lighten the appearance of dark circles.
For instance, Epique's Intensive Revitalising eye cream piper nigrum fruit extracts, which fight against premature signs of ageing such as wrinkles and dark circles. It also contains centella asiatica leaf extracts which improve skin firmness, and elasticity and prevent oxidative damage.
3. Eye Cream is Only Used Under the Eye
This is absolutely incorrect. A well-formulated eye cream can be used on eyelids, under the eyes and even on the sides on the eye. This will help tackle conditions such as crow's feet, dark eyelids and under-eye circles and wrinkles. 
Should You Use Eye Creams?
Most 20 years old probably don't need to invest in an eye cream. However, an eye cream could be a good addition to the skincare routine for people with mature skin. Eye creams are formulated to deliver quick results and can help fight some of the symptoms of ageing. If you are experiencing some volume loss, an eye cream may not be effective. You may need to look at cosmetic solutions such as fillers and botox. 
How to Apply Eye Cream Properly?
It's important to follow the right steps of application in order to make the most out of your eye cream. To get the most out of the product, make sure to follow the steps to apply eye cream properly.
Always use your ring finger as it's your weakest. So, naturally, it will have a gentle touch and won't be too abrasive on your skin.
Always apply eye cream once a day, preferably at night as it is most effective when used during the nighttime skincare routine.
Apply eye cream by tapping gently under your eyes – start with the innermost corner and then move outwards.
Avoid applying eye cream close to your bottom eyelashes.
Avoid rubbing the product on your skin.
Always wait at least two minutes to let the eye cream absorb into your skin before using the rest of the skincare products.
Apply your eye cream after your serums and before the moisturiser.
Other Tips to Take Care of Your Under-Eye Area
1.  Use Sunscreen
Use a good quality, high SPF sunscreen every day. And make sure to apply it around your eyes as well. Opt for SPF 30 or higher, for instance, Epique's Advanced UV Protection System with SPF 50 is a broad-spectrum sunscreen that protects against tanning and sunburns. It is also effective against dark circles under the eyes. 
2. Always Use Sunglasses
When stepping out in the sun, make sure to wear sunglasses to protect your eyes.  
Conclusion
An eye cream is not the most important aspect of your skincare, however using a well-formulated eye cream can help fight certain conditions such as wrinkles, and dark circles and can help keep your under-eye area moisturized. It's also important to understand the best way to apply eye cream. And remember to enjoy the skin you are in and be beauty eternal.  
-->